We take a look at the data center landscape in Southeast Asia in 2015
As 2015 draws to a close, how has the year changed the data center landscape in the Asia Pacific?  DCD asked top data center executives in the region what are the most notable developments in the data center and cloud space in 2015.
Cloudy with a chance of managed services
As we pointed out earlier this year, many brand-name cloud providers have eithe
r already established their presence in the region, or have plans to so this year. IDC predicted that the cloud ecosystem in the Asia Pacific region will grow at a compound annual growth rate of 67.9 percent, higher than in North America and Latin America. As expected, the cloud is making itself felt in IT deployments.
"This year, we witnessed an increase in businesses adopting a hybrid IT strategy – any mix of outsourced or in-house IT services, including data center colocation, managed services and cloud," said Kevin Wee, the director of CenturyLink's colocation business in the Asia Pacific. "This strategic IT approach continues to gain momentum as businesses recognize the demands that need to be met, in order to keep up with the multi-faceted business and IT landscape in this day and age."
Wee told us earlier this year that CenturyLink offers the unique ability to orchestrate between the cloud, traditional colocation, and also offer network and managed services at the same time. Clearly, enterprises are increasingly turning to the cloud, and they don't mind a helping hand with it.
"In the past year, the region has witnessed strong demand for data center services, with major deployments being concentrated in Singapore," said Clement Goh, the managing director of Equinix in Southeast Asia, as he pointed to managed services as is a key driver of this growth. "The growth has come primarily from cloud service providers who are bundling managed services to enterprises," he said.
The track record that Equinix has in acquiring a big slice of the cloud service providers' pie – including Microsoft's Azure and Amazon Web Services (AWS) in Singapore –should count for something. And in a way, the rise of managed services to help organizations with complex cloud deployments could well explain AWS's strategy of continuing to roll out easy-to-use services to convince larger businesses and the enterprise to make the switch.
It's all about the connectivity
If the cloud and managed services is the theme for the season, then surely connectivity is the linchpin holding all the fluffy bits together.
"An overarching theme that is driving the data center industry is the need for global connectedness. As enterprises expand their footprints internationally, it is essential that their providers are equally as, if not more global," noted Goh, adding that this has become more critical than ever in order to efficiently and effectively service customers.       
According to him, a recent industry survey of over 1,000 CIOs and other IT leaders globally showed that the number of enterprises deploying direct interconnections is poised to more than double to over 80 percent by 2017.
"Global brands such as Netflix are launching services here in Southeast Asia, with Singapore as their first port of deployment," explained Goh. "Enterprises that have already moved to interconnected solutions, reported significant value creation from enhanced application performance, and cost savings."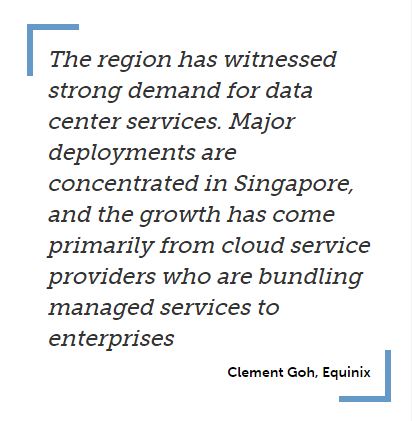 One point worth noting is the increasing number of deployments of 100Gbps connectivity between data centers, which had been the exception rather than the rule in the Southeast Asia region. Despite that, there are growing efforts to bring down prices for 1Gbps and 10Gbps deployments in 1-Net's data center corridor initiative, as well as an ambitious plan by newcomer Superloop toextend its dark fiber network into commercial buildings.
White-hot competition
Though there is no question that the data center scene in the region is a vibrant and growing one, the flip side is the white-hot competition that exists here. This is probably most visible in Malaysia, which saw a number of technology service providers go into liquidation over the last couple of years.
According to Chiew Kok Hin, CEO of the AIMS Group, the situation in Malaysia could be attributed to the high number of players in the market. According to him, the result is that many service providers are forced into an unsustainable price war to attract customers.
"This imbalance caused by oversupply of space in the Malaysian data center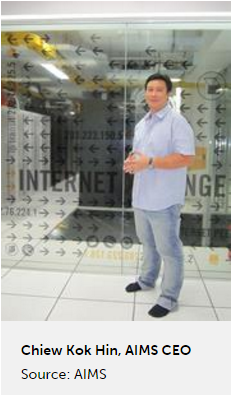 industry and depressed price levels is driving out some of the players, forcing some to shut down their operations," said Chiew whose organization recently secured the rights to acquire the data center and network related customer assets of Jaring Communications.
It is arguable that the situation in Malaysia is more challenging due to the higher cost of domestic bandwidth compared to regional data center hubs such as Singapore and Hong Kong,according to an earlier report. Work has begun to reduce this cost imbalance though, with the first step being the deployment of high-speed fiber network to connect data centers in Cyberjaya together.
Of course, the intense competition is also mirrored in Singapore too, which is experiencing a surge in greenfield data centers compared to retrofitted facilities, according to Wong Ka Vin, the managing director of 1-Net.
"This highlights the increasing importance in achieving a higher yield in terms of ratio between GFA and white space created," explained Wong. "This increased efficiency in data centers will result in more competitive pricing in the market."
Asher Ling, the COO of Kingsland which launched its first data center in Singapore a few months ago pointed to a number of strategic mergers and acquisitions that took place in 2015 in the wholesale and retail colocation sector. Ling's opinion is that this is indicative of the start of market consolidation especially within matured regions and markets – and he is hardly the only executive who pointed this out.


"The most notable development in 2015 is the rapid expansion of data center along with the variety of clouds offering via joint venture or mergers and acquisitions from global players," wrote Voradis Vinyarath, the executive director and acting managing director of TCC Technology (TCCT) in Thailand as he echoed the sentiment.
Yet Ling sees opportunities, not obstacles in the current landscape. "We would probably have been more aggressive in our expansion plans so as to meet the high demand growth," admitted Ling when quizzed about how he would have done things differently in hindsight.
Conclusion
As it is, 2016 could be a watershed year for the region in the face of increasing competition. In Singapore at least, multiple large data centers are currently on schedule to either launch, or enter into their stride in the new year. Among others, this include 1-Net's 1-Net North, StarHub's MediaHub data center, Digital Realty's second data center in Singapore at the start of next year, and Telin Singapore's Telin-3 and Singtel's DC West in the third quarter of 2016.
In our next feature, we will hear from some of the leading data center players on their thoughts about what 2016 will bring.